Home / Press & Links /
What's New
Online Exhibition | 2022 Zhejiang Brand Electrical and Power Industry Match-Making Online Meeting
Published in Zhejiang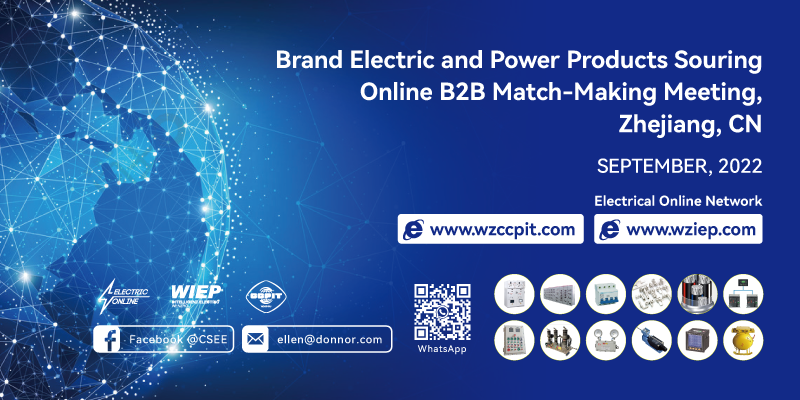 In order to implement the requirements of the central government on unblocking the domestic and international double circulation, realizing the efficient operation of domestic and foreign trade, building an industrial docking platform of online, offline, domestic and international linkage, helping export-oriented enterprises grasp the new opportunity of RCEP, and promoting the high-quality development of our city's electrical industry, "2022 Zhejiang Brand Electrical and Power Industry Match-Making Online Meeting" will be held in September. This online exhibition will last for two months.
Launching ceremony: 14:00-17:00 on September 20, 2022
Online pairing: RCEP special sections: September 21-25, 2022, a total of 5 days;other international sections:September to November
Online display: September 21, 2022 - March 25, 2023
Wenzhou Brand products international cloud Exhibition Platform: www.wzccpit.com
Electrical online B2BPlatform: www.wziep com
Organization
Guiding units: China Chamber of Commerce for import and export of Machinery and Electronic Products, China Electric Appliance Industry Association, China Electric Power Construction Enterprise Association
Sponsor: China Council for the promotion of international trade of Wenzhou, Chinese Secretariat of RCEP electric industry cooperation committee, Wenzhou International Chamber of Commerce, Yueqing Council for the promotion of international trade, Zhejiang Electric Industry Association
Co-organizers: Zhejiang Circuit Breaker Association, Wenzhou Electric Industry Association, Yueqing Electric Industry Association, Yueqing power transmission and Distribution Industry Association, Yueqing Intelligent Manufacturing Industry Federation
Organizer: Wenzhou Donnor Exhibition Co., Ltd., Electrical Online,WIEP B2B platform

Press conference
Industry Big Shots' Dialogue: Development Prospect of Electrical Industry under new opportunities of RCEP
Content and schedule
● launching ceremony: from 14:00 to 17:00 on September 20, the launching ceremony of Zhejiang famous electrical industry (RCEP) online exhibition was held. The main participants of the event were leaders of relevant government departments, guests of relevant industry associations, enterprise representatives, media representatives, etc.
● special talks: RCEP and international special talks will be arranged from September 21 to 25, 2022. 50 Wenzhou electric enterprises and no less than 50 overseas professional purchasers from RCEP member countries, the Middle East, Southeast Asia, the European Union and other global regions were organized to participate in the one-to-one matching negotiation through zoom or similar media, with a total of more than 100 docking sessions.
● half a year online display: set up "Zhejiang famous products zone" on the home page of electric online, organize more than 80 Wenzhou electric industry enterprises to settle in, and each enterprise can upload no more than 50 product pictures. The online display time is half a year. The platform operator organizes year-round and uninterrupted online matching negotiation according to the procurement demand and the business category of the settled enterprises.
● overseas "publicity ambassadors" of China's electrical capital: recruit industry publicity ambassadors in RCEP member countries, Middle East, Southeast Asia, EU and other countries, regularly carry out this activity and Wenzhou electric industry publicity activities in relevant professional markets or industrial zones, and timely connect and match the needs of foreign investors.
Exhibition scope
……
Complete power transmission and distribution, high-voltage electrical, low-voltage electrical, power fittings, explosion-proof electrical, building electrical, instrumentation, power electrical, smart power, photovoltaic, wind and other new energy generation and energy storage, and other categories (button switches, wires and cables, etc.).
Publicity and promotion
……
Invitation of self owned purchaser
Guide the purchasers in the database
Inlet flow
Channeling search results of search tools to online exhibition projects (half a year)
Official website promotion
set up a banner advertisement on the homepage of electrics online and Wenzhou International Intelligent Electrical Exhibition Official Website (half a year)
Trade Association
Cooperate with relevant overseas industry associations and organize members to purchase
Online advertising
Place certain advertisements in Google +, Facebook, twitter and other channels
We media platform
Use electric online wechat official account, Tiktok, Toutiao, Facebook, twitter and many other we media platforms for publicity and promotion
News report
According to the progress, use the electric online platform, cooperative institutions and media to report the exhibition results in time (real-time report)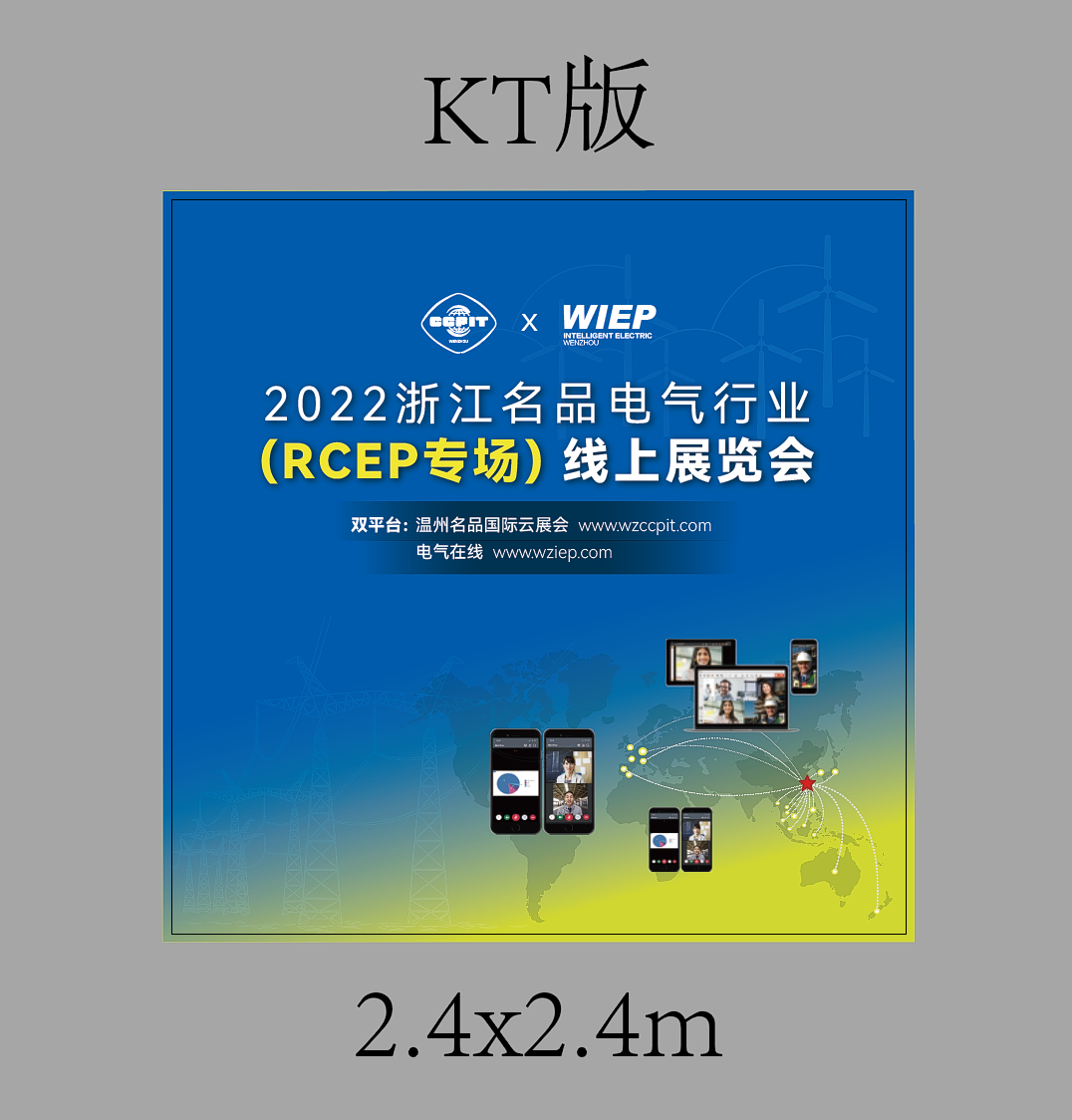 Registration instructions
……
The exhibitors do not need to pay the exhibition fee this time
Registration deadline: September 10
Registration contact:
Zhong Sujuan: 0577-88958609 15058399425
Lu Qiong: 0577-88288603 13738338220
picture
Registration QR code, long press to enter the registration channel
picture
China (Wenzhou) international intelligent electric and RCEP electric and electrical Exhibition
Exhibition theme:
Intelligent drive, create a world-class electrical industry cluster!
Exhibition time:
November 4-6, 2022
Venue:
Wenzhou Olympic Sports Exhibition Center (intersection of Olympic Sports 1st Road and Huanshan East Road, Longwan District, Wenzhou)
Exhibition hall distribution:
Hall 1: industrial control and automation
Hall 2: complete power transmission and distribution equipment
Hall 3: high and low voltage electrical components
Hall 4: photovoltaic energy storage
Organizer:
China Chamber of Commerce for import and export of mechanical and electrical products China Electrical Appliance Industry Association
Zhejiang Electric Industry Association of CCPIT Wenzhou Council
Organizer:
Wenzhou Electric Industry Association Wenzhou Dena Exhibition Co., Ltd
Yueqing Jiye evergreen marketing planning Co., Ltd
Co organizer:
Zhejiang circuit breaker Association Yueqing power transmission and Distribution Industry Association
Wenzhou Electric Association Yueqing miniature circuit breaker Industry Association
Yueqing Transformer Industry Association Yueqing lightning protection electrical industry association
Yueqing Relay Industry Association Shanghai Lingke Technology Co., Ltd
Yueqing electric power fittings and cable accessories industry association
Supported by:
China Electric Power Enterprise Federation Taiwan lvsha Electric Power Association
Technology innovation strategic alliance of intelligent transmission and distribution equipment industry
Strategic cooperation: Wenzhou Wanzhou chamber of Commerce